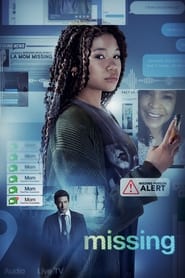 Missing (2023)
Watch Missing Full Movie Online
When her mother disappears while on vacation in Colombia with her new boyfriend, June's search for answers is hindered by international red tape. Stuck thousands of miles away in Los Angeles, June creatively uses all the latest technology at her fingertips to try and find her before it's too late. But as she digs deeper, her digital sleuthing raises more questions than answers… and when June unravels secrets about her mom, she discovers that she never really knew her at all.
Directed/written by Nicholas D. Johnson and Will Merrick. A runtime of one hour and fifty-one minutes. "June" played by Storm Reid is your typical teenager. Her father "James" played by Tim Griffin is perceived as dead. "June" mom "Grace" played by Nia Long is a single mother trying to make it. Like a lot of teen girls "June" can't stand her mother for no reason.
I'm thankful because my child loves me dearly. Her attention is elsewhere nowadays but the love is still there thankfully. Almost eighteen now, "June" is starting to pull away. She's hanging out with her best friend "Veena" played by Megan Suri more often. She's simply taking her mother for granted, even after losing her father.
"Grace" also is trying to find a balance in her new relationship with "Kevin" played by Ken Leung. "Grace" and "Kevin" plan a little getaway in Mexico. Still not fully trusting in "June" to be responsible. "Grace" plans to have her best friend "Heather" played by Amy Landecker check in on her periodically.
"June" was given the sole job of picking "Grace" and "Kevin" up from the airport. Almost failing that task, it doesn't take long before "June" realizes her mother's flight came and went. Now frantic and with the small amount of money her mom left her for emergencies. "June" will hire a Mexican translator "Javi" played by Joaquim de Almeida. She will also lean on "FBI Agent Park" played by Daniel Henney and all the resources available. To piece together what happened to her mom.
Once "June" opens that door the floodgates open. Now, this confusing case gets more confusing. Once the Public and their pointless views get added to the equation.
"Missing" was creative. There have been other films filmed with iPhones or using CTV images. This film just laid into it heavy. Using nothing but cameras from every device possible you got a first-hand, personal view of the whole film.
Storm Reid is awesome. She is a younger Zendaya. Still her person. Who is extremely talented and will take her craft to new heights. I love seeing her gradually rise.
This film had a smaller cast but was full of well-established actors. Some things in the film got a little out of hand. Some were extremely silly and pointless. You grabbed your surfboard and hopped on the storyline wave. Just riding it to see where you ended up.
I liked a lot of the film but there were times were it was just a little too silly for me. I did appreciate them showing how stupid social media can be at times. As well as showing how fickle people are. The end had a wild twist. I also liked how "June" tightened up. Your parents are not given and they shouldn't be treated as such.
Duration: 111 min
Release: 2023