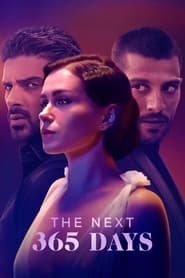 The Next 365 Days (2022)
Watch The Next 365 Days Full Movie Online
Laura and Massimo's relationship hangs in the balance as they try to overcome trust issues while a tenacious Nacho works to push them apart.
The Beauty and the Beast have returned! Finally we are getting to the core of our main characters, as Massimo is having a break through from his former addictions, Laura is breaking down from the trauma of upholding the role of a Mob Boss's wife and the lifestyle that comes with that line of work, the good, the bad, and the ugly.
Massimo almost went back to black (another stunning performance Michele!) and we witness his character evolution when he refused to go back to that dark place from his past. For the first time, the production team shows the audience a glimpse into Massimo's warped dark world, and we indulge with him for a few minutes before our tragic hero refuses to fall back into the darkness that consumed his late twin brother. Massimo shows redemption and resilience when he climbs out of the rabbit hole of darkness. Massimo has greatly evolved since the first chapter as Laura's obsessed captor, and he opens up and emotionally levels to negotiate with Laura as an equal. Massimo communicates his vulnerability of losing Laura and their unborn child, and for the first time, we see a rightfully protective husband and a would be father mourn the loss of his new family because of his birthright burden of the Mafia.
By the third chapter, Laura is unrecognizable to herself after having experienced Stockholm syndrome with the initial kidnapping, secret miscarriage, set up car accident, duped by the doppelgänger twin brother, and to survive being shot in the crossfire of a mob family feud. As the audience, we witness Laura finally shatter and break down from this trauma. (Amazing crying performance Anna!) To be clear, the trauma is not directly at the hands of Massimo, but she is inherently the target because of his birthright position and lifestyle. Laura's tragedy is that she does not see the main difference with Nacho is that of his father is still alive and therefore running their family business, to whereas Massimo has to bear the weight of his inheritance from his late father. Nacho will sooner or later bear the same tragic fate of the Mafia life.
This inescapable reality of the Mob becomes clear to the two star crossed lovers, Massimo and Laura, during their heated argument with broken glass. There is guilt and anger because Massimo is realizing the ultimate toll his lifestyle is having on Laura, the love of his life, and he is witnessing his life line slip away from him. By chapter 3, Laura is understandably mentally and emotionally exhausted and naturally is seeking reprieve. There has to be an ultimate sacrifice! As Massimo and Laura are at the crossroads, they both know there is no running from the Mob.
Duration: 112 min
Release: 2022